Our Name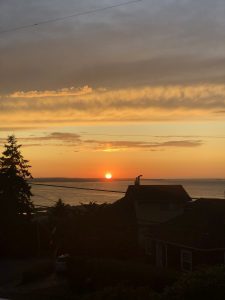 What do you think of when you hear the word – watershed? One of the pictures that comes to our minds is of a little corner of the Sandy River with black sand beaches, deep cold swimming holes, tangles of douglas fir, vine maple and a little poison oak. Maybe you think about the annual salmon return and watching the circle of life play out as the fish return to their natal homes.
Or, obviously, in Astoria you might naturally think about all the rivers running together and out to the sea, and the complex interactions between fish, farms, ships, sea lions and plenty of winter rain.
All of these things have something in common – they highlight interconnections between living things and every aspect of their environment. We approach health and wellness through this lens. What does that mean? It means that all of our practitioners take it as their responsibility to look at you and your health situation with a holistic framework in mind.
Your back pain may have something to do with your stress level at work, or gut inflammation from a diet that is wrong for your body, or some other feature of your environment. Your shoulder pain on one side of your body could be related to the hip pain on the other side of your body! The interconnections are important, and powerful for healing.
Our Founders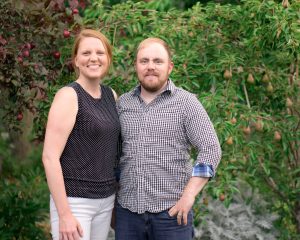 Watershed Wellness was founded in 2009 by us – Eric Grey, LAc and Amanda Barp, LMT. Partners in business and life, we worked hard to build our 2-person practice into a thriving multi-modality home for healing in Southeast Portland, at one time supporting 10 fantastic practitioners in that space.
We are both small town kids, Amanda from Nebraska and Eric from Idaho, and while Portland has been good to us – helping us launch our practice and raise our daughter – in 2016 we knew it was time to get back to the deep connections and slower pace that small town life can bring. After some deliberation, we moved our home life to Astoria in 2016, still maintaining our clinic in Portland – a lot of driving! After living in this wonderful community for a year, we realized that there was a lot of calling for the work we like to do, so we opened a beautiful space in Historic Downtown – including a yoga studio that grew into a place of great community & movement.
Then, in early 2020, COVID-19 came to call. The reverberations of that crisis (still underway as we publish this) forced us to let go of yoga teaching for the time being and close our beloved downtown location. While this was a very hard decision, we have no doubt that this "pruning" will allow a stronger, more vibrant Watershed Wellness to grow to serve this region ever better. So, now consolidated in a single clinic on Pier 1, we have a wonderful team poised to be part of the wellness of the North Coast for many years to come.
Our Mission
We believe that healthy, thriving people are the foundation of a strong, just and joyful society. It may sound lofty (and it is) but it's true – we are all passionate about helping every client be their best self – free of suffering and relaxed, ready to take on whatever life brings. Think of what a country full of stress-free, pain-free, chronic-disease free communities could do! We contribute to this vision primarily through the use of our rich education and experience in holistic frameworks of healing.
We offer acupuncture, clinically potent Chinese herbalism, gentle and effective Naturopathic medical care, therapeutic massage therapy, and organic skincare including the incredible Eminence Organics skin care line. We also try to improve the world we're in through education, both in the treatment room and through public events (like us on Facebook to be notified of upcoming opportunities), our blog and our newsletter to hear about what's coming up!
We also take our commitment to the natural world very seriously. We use 100% recycled versions of all our office products whenever available, are committed to sourcing only the most sustainable supplements and herbs, and are renewable energy supporters. We're also looking to partner with like minded organizations that work to educate the public about natural resource issues, our ecological responsibilities and the power of nature to be a source of healing in itself. Particularly in Astoria, the power and promise of the connection between human and non-human should never be far from our minds – no matter our occupation.
Finally, we are growing into our capacity to be a place where oppression, systems of power, cultural appropriation and other socio-political realities are actively investigated, questioned, confronted and contemplated. We at Watershed Wellness believe that we must all be engaged in the project of helping America fulfill its responsibilities to a hopeful and equitable future while acknowledging and rectifying our mistakes in the present and past.
Click here for easy access to our schedule
Click here to learn more about our refund/return policy