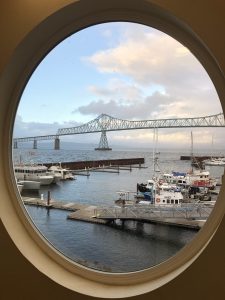 The rumors are true! We are adding a location to better serve the North Coast and Southwest Washington.
Within six months of our opening in January 2017, it was apparent that we were going to quickly outgrow the space on 14th & Commercial. The demand for services has been so high that many are dismayed to learn that our first available appointments can be months away. This is largely due to space considerations – with only two rooms we can only do so much. We've done our best juggling shifts to maximize the number of people we can accommodate, but the time has come to take a big step forward.
We are expanding in Astoria by keeping our location and adding a new one just down the Riverwalk!
Starting Monday, December 2, 2019, all acupuncture and massage therapy appointments with Watershed Wellness practitioners will be taking place at our new Pier 1 location.

Esthetics (facials) and yoga will be remaining at the Downtown location.
The address is : 10 Pier One, Suite 308, Astoria, OR 97103 (map link).
Some mapping systems do not render the address correctly. For a time, the location will show as the "Port of Astoria administrative offices" until that all gets switched over with Google.
Map & Further Location Instructions
The building, which until very recently hosted the Port of Astoria administrative offices, is three stories, red and blue, just to the West of the Megler bridge and the marina in the West Mooring Basin. The road leading to Pier 1 is Portway Street, which turns off 101 at the light next to the Portway Tavern. There are several counselors in the building, as well as forest product companies and several Port / marine traffic related businesses you may have visited in the past.
As you go down Portway street, you will cross the Riverwalk and trolley tracks (be careful!) and pass the Astoria Riverwalk Inn on the right. You will feel like you are driving into an industrial region. Depending on time of year and economic conditions, you may see stacks of logs, cruise ships, fishing boats and trucks. But, continue down Portway St and you will come to the entrance of the parking lot and see the red and blue building. You made it.
Park in the parking lot, paying attention to any signage or striping. There are multiple wheelchair accessible spaces and a spacious elevator at the Pier 1 space, so everyone should be able to access the space with no problem. Please contact us if you have any special needs that you want to be sure we can accommodate.
Contact information and scheduling
Our phone number, email addresses and website address are all staying the same. You can find this information, an online contact form and more information about both of our locations on the locations page.
All the same touches and all the same customer service support will be available to you at the new location. We are working very hard to make sure that all you experience are improvements and ongoing healing as we make this transition.
Our scheduling system will remain the same and if you have appointments scheduled for acupuncture or massage, they will be switched over to reflect the Pier 1 Location. You may receive rescheduling emails about this change. If you have any questions, do not hesitate to reach out to verify your appointments from your calendar.
More about what's great about the new Pier 1 location
We will be releasing more articles with information about what's to come for both the Downtown and the Pier 1 locations on the blog. To stay updated, be sure you're either a subscriber to the newsletter or that you follow us on Facebook or Instagram. 
For now, a little rundown of five things we're most excited about with the expansion…
Increased space means existing practitioners can potentially take on more patients – meaning shorter wait time for appointments. Yes, expanding staff will be coming, and we have plenty of room to grow.
Increased space also means the ability to provide a post-treatment relaxation area, expanded medicinary services and eventually classes and events in the space.
The clinic location is quieter being far from the main roads. There are new sounds to experience, like battling seagulls and boat traffic. But overall, a more peaceful treatment experience.
The views are fantastic, and we have new businesses and neighbors to connect with.
Much better parking experience, while still maintaining the connection to the convenient and iconic Riverwalk!
/?php // If comments are open or we have at least one comment, load up the comment template //if ( comments_open() || '0' != get_comments_number() ) : // comments_template(); //endif; //?>