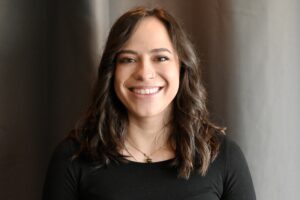 My name is Rachel Torres, I am a licensed massage therapist from Illinois who is very excited to be a part of the Watershed Wellness team.
I graduated with my Bachelor of Science in Health Sciences, from Northern Illinois University. Knowing I wanted to pursue a career in holistic health care, I continued in a graduate program at National University of Health Sciences and graduated with my Master of Science in Acupuncture in 2022.
Note : We are still waiting on Rachel's acupuncture license to be verified by the state of Oregon – but she can take massage clients in the meantime and her schedule is open.
As an intern, I worked closely with patients of the veteran's hospital in cases of complex pain, post-traumatic stress and emotional health. I also found an interest in women's health, in cases of infertility, menstrual issues, and pregnancy. Upon completion of national board exams, this Spring, I look forward to accepting acupuncture appointments.
During my acupuncture education, I found a love for massage and bodywork.  I enrolled concurrently in a massage therapy program and completed my education at the School of Holistic Massage and Reflexology in 2021. I opened my own massage practice in a busy Chicago suburb where I was fortunate to see many patients with a variety of conditions. Although the decision was difficult to leave my practice, I knew I needed to follow my heart to the Pacific Northwest and am very excited to serve my new community in Astoria.
I want my patients to feel empowered in their health. I offer a safe space for patients to share openly and ask questions about their health concerns, free from judgement. I work with patients to connect to their bodies, both physically and mentally, to establish confidence in body awareness. This body awareness allows the power to remain present and provides a deeper understanding and connection to ourselves, where we can notice signs of "dis-ease" or pain sooner than later. Together we can address these concerns and provide an individualized treatment approach to decrease pain and strengthen the body.
Coming from Chicago, I am so excited to explore the beauty and adventure that Oregon has to offer. Outside of the clinic, you may find me exploring hiking trails, cuddling with my cat, Mango, or covered in paint from my latest art project.
/?php // If comments are open or we have at least one comment, load up the comment template //if ( comments_open() || '0' != get_comments_number() ) : // comments_template(); //endif; //?>